Apply to be an Opportunity Youth Congressional Liaison!
The Forum for Youth Investment is pleased to announcing the SECOND COHORT of the Opportunity Youth Congressional Liaison Program.
If you're a current or former Opportunity Youth between the ages of 16 and 26, apply to be paid to build your advocacy skills and build relationships with elected officials. Deadline: March 16.
__
⭐ Share this! Quick link: bit.ly/oycl-apply
__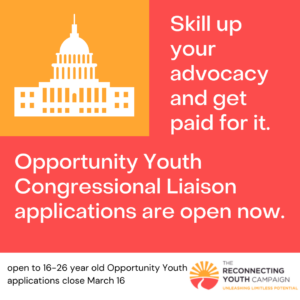 The Opportunity Youth Congressional Liaison program is a virtual, part-time program that trains participants in the skills required to successfully meet with Members of Congress and their staff about the issues central to the Reconnecting Youth Campaign and the Forum for Youth Investment's policy agenda: youth employment, education, juvenile justice, child welfare, youth experiencing homelessness, and related government systems.
The program is open to current or former Opportunity Youth ages 16 to 26 (Opportunity Youth are young people ages 16 to 26 who have been disconnected from both school and the workforce).
Learn more about the program on the Forum for Youth Investment website: Meet the OYCLs.
This is a paid learn and earn opportunity. We anticipate Congressional Liaisons will spend approximately 30-hours on this project in the form of nine interactive online trainings and assignments. Most hours will be in the evenings, Eastern time. Contact Gerod Blue for more information.
__
All applicants will be considered without regard to race, religion, color, sex, gender, sexual orientation, gender identity, pregnancy, age, national origin, ancestry, physical/mental disability, severe/morbid obesity, medical condition, military/veteran status, genetic information, marital status, ethnicity, and we will not ask about your immigration status.