Opportunity Youth Advocacy Community – April 2022 Monthly Meeting Summary
Updates from a national coalition of individuals and organizations who come together to build comprehensive support for and investment in pathways for Opportunity Youth – young people ages 16 to 24 who are not in school or the workforce.
If you're interested in joining this cross-issue coalition of advocates and researchers focused on Opportunity Youth, please sign up here. Advocates of all ages and issue areas are welcome!
DC state of play
Appropriations & FY23 President's Budget Request
Congress is back with an extensive to-do list and several priorities, including appropriations. The House is out until the second week of May, while the Senate is back in session until the end of the month. Between now and August recess, the House will be in session for a total of 32 legislative days and the Senate will be in session for 54 legislative days. Within the upcoming months and as Members get ready for midterm elections, Congress has a long road ahead.
Appropriations
Appropriators are working to secure an agreement on an overall size for non-discretionary funds which includes funding priorities for the RYC. We anticipate some movement on appropriations in the upcoming months throughout the summer.
BBB
Democrats are once again preparing to provide elements of President Biden's social spending plan, but they are running up against the calendar.
In addition, there are plenty more legislative priorities on the agenda, from competitiveness legislation to another round of coronavirus funding. That said, the number of legislation that lawmakers will want to do as the midterms are closer will decline by the day
FY23 appropriations
Biden's budget called for small increases across a set of education, workforce development, and national service programs that the RYC has advocated for since its launch in 2017.
RYC Dear Colleague Letter: Led by our House champion, Rep. Sara Jacobs (D-CA-53), the RYC called on Congress to increase appropriations by 20% for programs that reconnect Opportunity Youth.
The RYC also led an organizational sign-on letter with our partners calling on congressional appropriators to increase federal appropriations.
The House Appropriations Committee has been holding budget hearings with agency heads. The next hearing will be for the Dept. of Labor.
WIOA
House bill update:
Similar to last month, the bipartisan conversations on the House side around WIOA are still ongoing. In regards to whether it will go to the House floor if the Senate will pay attention to it, or whether the Senate will do anything regarding WIOA this Congress, the fate of the House bill remains uncertain.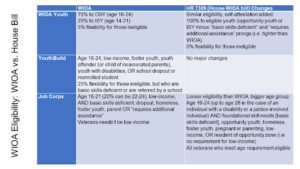 To read the perspectives of RYC members on the bill, read the statements put out by NYEC and CLASP:
Comments on the discussion draft
NYEC statement on the committee-passed bill
From House Ed and Labor Committee staff:
Questions to ponder:
How do we better align executive and legislative branch action? Capitalize on violence prevention/intervention or mental health?
Should a local workforce board be able to focus its WIOA Youth funding on youth experiencing homelessness, foster youth, or justice-involved youth?
In your area/experience, would self-attestation significantly reduce disincentives to serving young people with the most barriers?
Given current resources, how can the workforce system better address mental health and trauma?
Measure of America
Kristin Lewis, the Director of Measure of America, presented how the arrival of Covid-19 affected youth disconnection. Current reporting showed 12.6% of young people in the United States are disconnected (see Measure of America's data here), but Kristin shared how challenges with data collection impacted the last report.
The first challenge discussed was how Covid-19 affected data collection in 2020. Covid-19 disrupted normal methods and workflows of the Census Bureau's American Community Survey. As a result of lower survey response rates, especially from April to June; there was a bias in the data collected as different groups were more/less likely to respond to the survey. Compared to previous years, respondents disproportionately lived in single-family homes, were married, had bachelor's degrees, were citizens, and had higher-than-average incomes—all groups less likely to experience disconnection.
As a result, the Census Bureau used other data sources, such as administrative data, to adjust the ACS survey weights. This improved quality but did not fully remove bias. Even with the adjusted weights, the 2020 unemployment level is still lower than expected.
Recommendations: Key Points
Direct resources to areas with the highest rates of youth disconnection.
Recognize that one size does not fit all.
Don't let young people who fell through the cracks over the last two years lose their chance at an education.
Continue to reduce Covid-19's spread.
New Deal for Youth Hill Briefing
On April 29th, at the #ND4YHillBriefing young changemakers across the U.S. shared about the work they're doing to demand our elected officials pay attention and take action.
Resource Round-Up
Reconnecting Youth Campaign (RYC)
All Youth Connecting Forum: Empower, Educate, Explore (NYEC, June 2-3)
HAP Academy OIC – Hmong American Partnership
EPIC – Advocacy